The Ciesla Foundation is dedicated to producing documentaries with an uplifting social and historical message about unsung Jewish heroes. Our newest film project is Rosenwald, a documentary on the incredible story of how businessman and philanthropist Julius Rosenwald joined with African-American communities in the South to build schools for them during the early part of the 20th century. This historical partnership as well as the modern-day attempts to maintain or reconfigure the schools is a great dramatic story, yet too little-known.
Born in the heart of the Land of Lincoln in Springfield, Illinois; Julius Rosenwald, the son of German-Jewish immigrants, rose to become one of the wealthiest men in America as well as a beloved humanitarian. As the son of a German Jewish clothier, he naturally went into the family business as well, and married the daughter of a competitor. He then teamed up with Richard Sears to build Sears, Roebuck and Co. and helped diversify the company, positioning it to be known as the direct extension of the farmer's eyes, ears and wallet– making purchasing decisions in the best interest of the farmer. He became Sears President from 1908–1924 and was its chairman 1924-1932.
Influenced by the social gospel espoused by Rabbi Emil Hirsch of Chicago Sinai Congregation, Rosenwald used his great wealth and talent for leadership to try to fix what he viewed as wrong with the world. Rosenwald took a leadership role in establishing social services to meet the needs of some 100,000 impoverished Jewish immigrants who settled in Chicago at the turn of the 20th century; and later, in uniting the city's splintered German and Eastern European Jewish communities. Growing up nearby the Lincoln residence in Springfield foreshadowed his liberal politics and concerns with justice for African-Americans. Rosenwald's exposure to poverty and teeming masses of immigrants in New York City also influenced his views. All told, he gave away $63 million to various causes, which in today's dollars is more than ten times that amount.
Rosenwald's philanthropy took a dramatic turn after reading accounts by African-American thinkers. Booker T. Washington's accomplishments parallel what Rosenwald had achieved. Washington approached Julius Rosenwald in 1912 to assist in funding a program in line with Washington's belief of self-help for African-American southerners that emphasized economic advancement through vocational education. Rosenwald spurred the establishment of 25 YMCA-YWCAs to serve African-Americans in cities across the U.S., including the Wabash Avenue YMCA in Chicago. (Existing Y's at the time served only whites.) In addition, he established one of the nation's first housing projects on Chicago's South Side.
Rosenwald's greatest accomplishment is the establishment of challenge grants, seeded for the creation of more than 5,500 schools for poor, rural African-American children in southern states at a time when few received any public education. From 1915 to 1932, 660,000 rural southern African-American students benefited from an initiative that truly speaks to The American Dream. The story of the partnership between Julius Rosenwald and Booker T. Washington is perhaps the most compelling one of our time.
What did it mean to a community to have a Rosenwald School? At the time, most public schools for rural African-Americans– if there were schools at all–were run-down buildings with few, if any, amenities.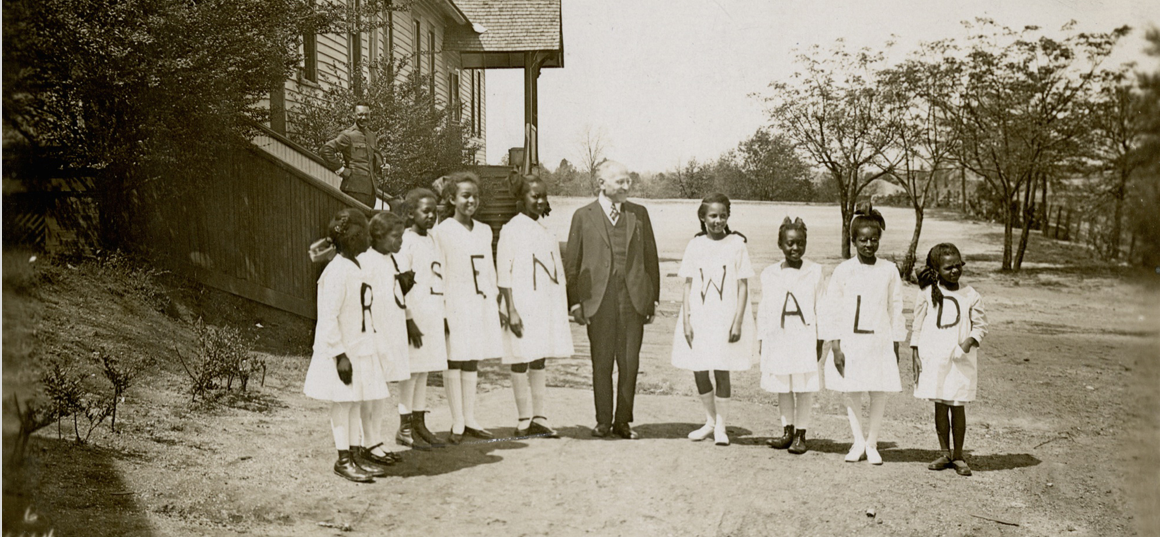 If the county didn't provide a public building, the children learned in lodge halls, and churches. To have a school and educators meant that the next generation would have a chance to move away from the often grinding poverty found in such areas, and not be solely dependent upon the land for sustenance.
Serving as somewhat of a model was The Tuskegee Institute, which trained African-Americans in skills related to the building and agricultural trades and teaching which influenced the development of the Rosenwald Schools. Washington also developed tremendous skills in fundraising and negotiating between the white and African-American communities, which laid the groundwork for establishing the Rosenwald schools. At the time of their construction and heyday, Rosenwald Schools were a household name in the Deep South. The list of prominent alumni and educators includes ancestors of Oprah Winfrey, Spike Lee, Tony Award-winning playwright George Wolfe, and Julian Bond. Pulitzer Prize-winning Washington Post columnist Eugene Robinson also went to a Rosenwald school. So respected was Julius Rosenwald in school communities, his portrait graced classroom walls alongside that of President Lincoln, and schoolchildren composed songs and poems to be performed in his honor at annual appreciation events. The project is not as well known today because Rosenwald directed that, after his death (he died in 1932), the schools not bear his name and that funding cease.
At one of the first meetings of the Rosenwald Fund board, it was decided to give fellowships in a variety of fields to gifted African-Americans and white Southerners in order to give them one to three years to concentrate on their work and develop their abilities. These fellowships ranged from between $1,500 and $2,000, a considerable amount during the Great Depression. Between 1928-48, Fellowships totaling $1.65 million were given out to recipients including Marian Anderson, Romare Bearden, Ralph Bunche, W. E. B. DuBois, Ralph Ellison, Zora Neale Hurston, Gordon Parks, James Baldwin, Jacob Lawrence and Claude MacKay.
The National Trust for Historic Preservation is the leading entity in documenting the condition of the buildings and offering assistance to local communities restoring the old schools. Local efforts to locate and refurbish the facilities have led to alumni reunions, news coverage of former teachers, dedication ceremonies, conferences, and renewed scholarship and research of the initiative.
The living story is about saving the schools today, the ongoing story concerns self-reliance and community pride. In the spirit of their grandfather's tradition two Rosenwald granddaughters donate funds to re-establish the Rosenwald schools. At a time when financial hardships abound, it is imperative that this story be told now. It is the great story of a Jewish and African-American partnership.
Rosenwald Film Bonus: Teaching Guide