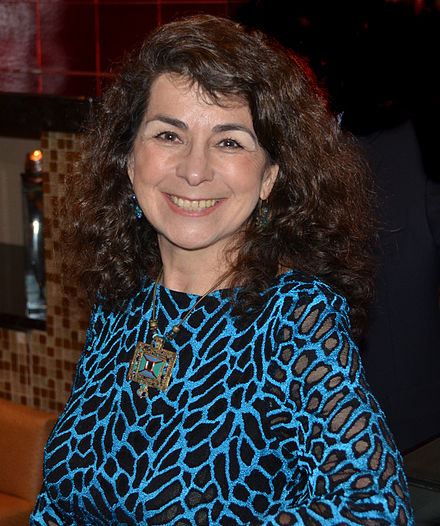 Award-winning filmmaker Aviva Kempner has been making independent films since 1979
Aviva Kempner
Producer/Director/Writer
A child of Holocaust survivor Helen Ciesla and Harold Kempner, a US Army officer, Aviva Kempner was born in Berlin, Germany after World War II. Kempner creates successful and critically acclaimed documentaries about under-known Jewish heroes and social justice. In 2019, she premiered her fifth commercially-released film about Moe Berg , The Spy Behind Home Plate. Her other films include Rosenwald, a documentary about how Chicago businessman and philanthropist Julius Rosenwald partnered with Booker T. Washington in establishing over 5,000 schools for African Americans in the Jim Crow South; Yoo-Hoo, Mrs. Goldberg, about Gertrude Berg, who created the first television sitcom; and the Emmy-nominated and Peabody-awarded The Life and Times of Hank Greenberg, about the Hall of Famer who faced anti-Semitism during the '30s.  Both Yoo-Hoo, Mrs. Goldberg and Hank Greenberg grossed over a million dollars at the box office and are highly ranked, along with Rosenwald, on Rotten Tomatoes. She also produced the award-winning documentary Partisans of Vilna, about Jews fighting the Nazis.
Kempner is also co-directing and co-producing Imagining the Indian: The Fight Against Native American Mascoting with Ben West (Cheyenne), ESPN Commentator and Washington Post contributor, Kevin Blackistone, and filmmaker Sam Bardley. She co-wrote and is co-producing the dramatic script Casuse with West. The project is about the Navajo activist Larry Casuse, who Kempner knew while a VISTA volunteer in New Mexico in the early '70s.  Kempner graduated from the University of Michigan in 1969 with a bachelor's degree in psychology and in 1971 earned her master's in urban planning. In 1976, she earned her law degree from the Antioch School of Law.
Kempner lives in Washington, DC where she plays a prominent role in the artist and film community. She started the Washington Jewish Film Festival in 1990 and was on the board of Women and Film and Video. She is also an activist for voting rights for the District of Columbia.
She is a member of the Academy of Motion Picture Arts and Sciences, recipient of the 1996 Guggenheim Fellowship and the 2000 DC Mayor's Art Award: 2001 Women of Vision award from D.C.'s Women in Film and Video chapter, the 2001 Media Arts award from the National Foundation for Jewish Culture and the 2009 San Francisco Jewish Film Festival's Freedom of Expression Awardee. Kempner received the Bernardo O'Higgins Award and in 2017, a honorary Doctorate of Humane Letters from the University of the District of Columbia in 2018 and the Moment award in 2019.
She writes film criticism and feature articles for numerous publications, including The Boston Globe, Chicago Tribune, Crystal City Magazine, The Forward, Baltimore Jewish Times, Jewish Telegraphic Agency, Legal Times, New York Times, The Wrap, Washington Jewish Week and The Washington Post.
Rosenwald Film Bonus: Teaching Guide