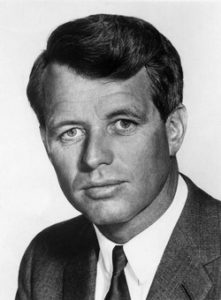 June 6, 2018 marked the 50th anniversary of the death of Robert F. Kennedy. A service was held at Arlington National Cemetery in honor of his legacy. Aviva Kempner, who attended the memorial, noticed historical parallels mentioned at the service with topics in the Rosenwald documentary.
The event began with a musical prelude, "Life Every Voice and Sing," written by James Weldon Johnson and often referred to as the "Black/African-American National Anthem" (and also served as inspiration for the sculptor Augusta Savage's famous piece "The Harp"). Writer and poet James Weldon received several Rosenwald grants in the dates 1928, 1930, and 1931.
One of several notable speakers at the memorial as well as an interviewee in the Rosenwald film was Congressman John Lewis. Congressman Lewis read the words from one of Robert Kennedy's speeches. In the film, Congressman Lewis spoke of his successes and positive work he's done for the country, an inspirational achievement knowing his humble beginnings were in a Rosenwald school.
The memorial, filled with musical performances and meaningful testimonies by Kennedy's daughter Kathleen Kennedy Townsend, community leaders, and other elected officials, was not only a beautiful tribute to Robert F. Kennedy, but also served as a celebration to inspire us to continue to persevere in the face of adversity and build a better world.