Best wishes for a Happy Thanksgiving from everyone here at The Ciesla Foundation! We are so grateful to have released Rosenwald in over 100 theaters all over the country to enthusiastic audiences. The film just opened in several cities throughout the South as a conclusion of its theatrical run. The film will still appear at some final theaters through December and early next year. Read the website for locations. Non theatrical screenings are being booked throughout the land, and we are actively fundraising and developing the two disc DVD.

Thanks to all you all for supporting the film, appearing in the film and promoting the film. Below are our latest reports from the last month of intense travel and worldwide exposure.

-Aviva Kempner and The Ciesla Foundation team
From America to China with the Rosenwald film
The past several weeks have marked an exciting time for the Rosenwald film as Aviva took the film across the country, spreading the story of Julius Rosenwald's philanthropy and generosity. Two weeks ago, Aviva Kempner landed in China on a trip to attend the 12th Annual American Studies Network Conference at Peking University as a keynote speaker with Rabbi Andy Baker of the American Jewish Committee. She arrived in China on a day called "Singles Day", which promotes giving presents to single people. Seems like a good promotional holiday for the States.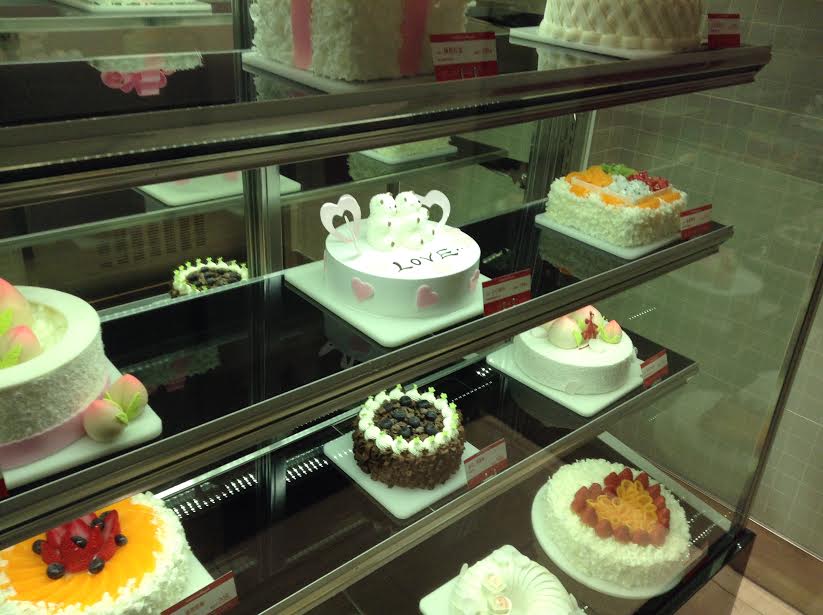 The days preceding the conference, Aviva had the opportunity to see the Great Wall, the Summer Palace, Forbidden City, and Tienanmen Square, attend a lovely Shabbat service in Beijing that reminded her of Fabrangen in Washington DC, and even meet a new friend in her hotel lobby!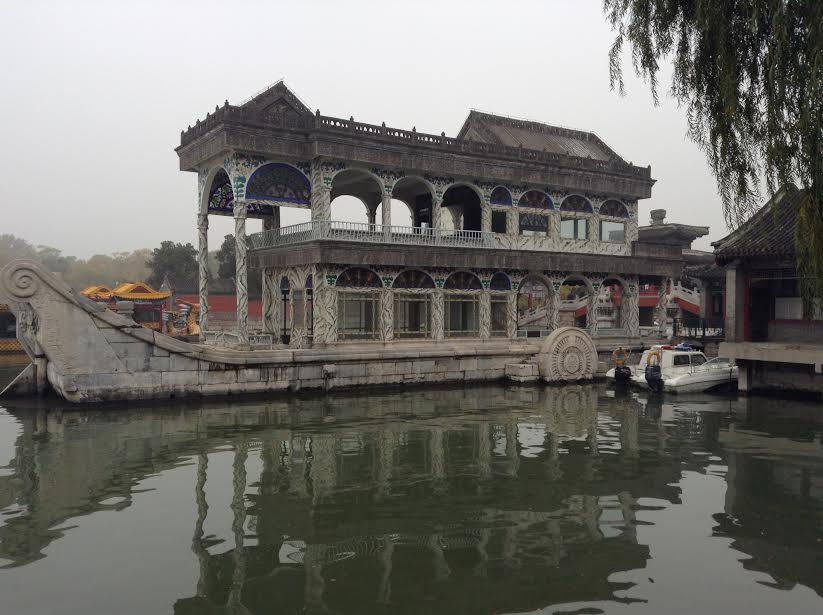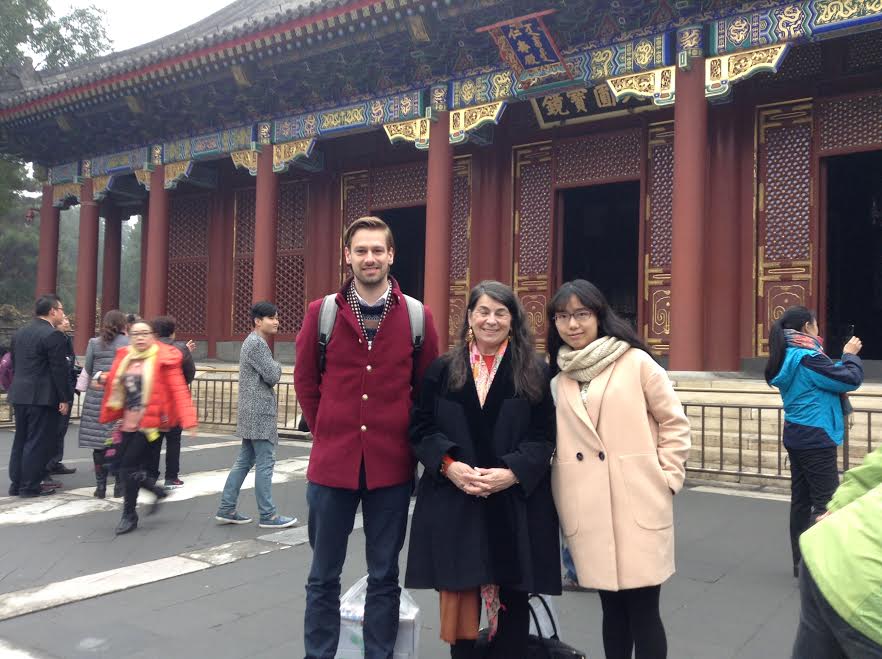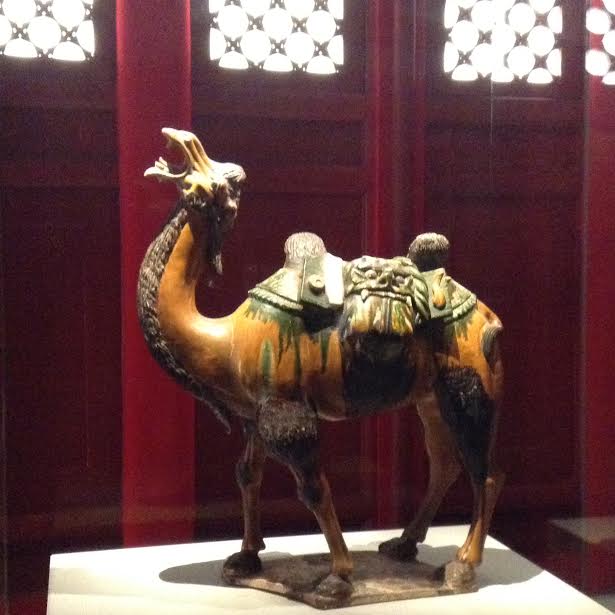 On November 14th, Aviva gave a keynote address on "Jewish-African American Alliance of the Early 20th Century" and spoke in the preceding panel discussion, in which she engaged with an audience of mostly Chinese students and told them about Julius Rosenwald's relationship with Booker T Washington, paralleling it with a story of Hank Greenberg and Jackie Robinson. Clips from each of her films were shown to augment the talk. Aviva dedicated her speech to the victims in Paris and how her discussion of alliances is what should inspire us.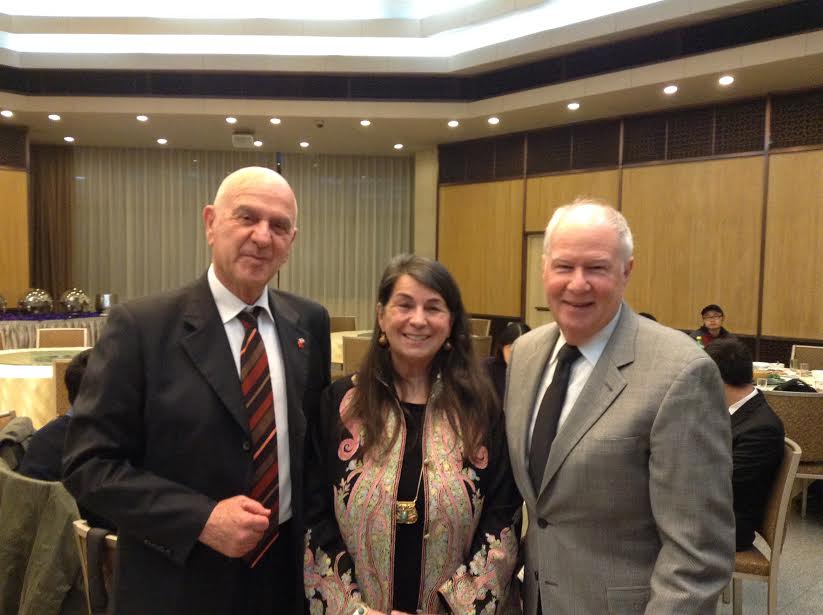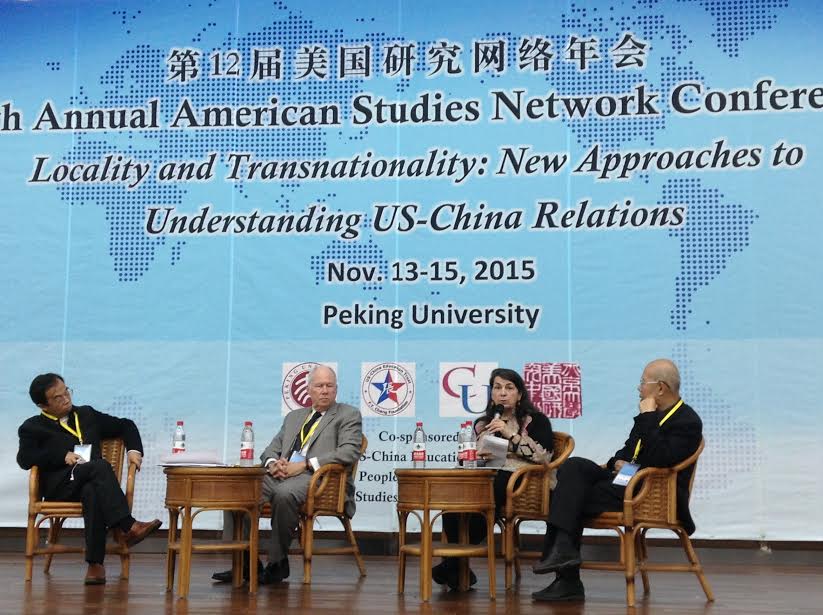 The next leg of the trip was to Shanghai, where Aviva gave a speech for "Documenting the Holocaust: The second generation's responsibility" at the Forum Celebrating Shanghai: Haven for Jews in Holocaust in Commemoration of the 70th Anniversary of Survival of Holocaust Victims in Shanghai. In the speech, she talked about how the story of her family's journey during World War II impacted on the World War II themes in all her films. She detailed her early life growing up and the experiences she had the led to making Partisans of Vilna, The Life and Times of Hank Greenberg, Yoo-Hoo Mrs. Goldberg, and eventually Rosenwald. She finished her speech by stressing the importance of remembering World War II so that the horrors experienced then can be avoided forever. The event was sponsored by the Center for Jewish Studies Shanghai (CJSS) at SASS with the US-China Education Trust (USCET).
Shanghai itself houses a moving testament to the saving of European Jews. During World War II, 25,000 Jews found shelter in Shanghai after fleeing Nazi-occupied Europe. On the 70th anniversary of survival of Jewish refugees in Shanghai and the end of WWII in the Pacific, this Forum commemorates Shanghai's role as a haven for many European Jewish refugees at a time when most other countries, including the United States, closed their doors to all but a fortunate few. Joining Kempner was Welcome Remarks
 Professor Pan Guang, Dean, Center for Jewish Studies Shanghai at SASS.
The forum began with an introduction
 from Ambassador Julia Chang Bloch (President, USCET). Also in attendance was Rabbi Andrew Baker (Director of International Jewish Affairs, American Jewish Committee) and Prof. Dr. Wang Jian (Associate Dean, CJSS). The forum offered sessions such as "Coming to Terms with the Holocaust: Money, Memory, Politics and Responsibility" and "New Perspective on Jewish Refugees in Wartime Shanghai".
While in the area, Kempner toured the incredible Shanghai Jewish Refugees Museum—where the rescue of 25,000 European Jews is documented and celebrated. Erwin Li, who is serving in the Austrian Service Abroad as a Holocaust Memorial Servant at the Center of Jewish Studies – Academy of Social Sciences, took Aviva around the Museum.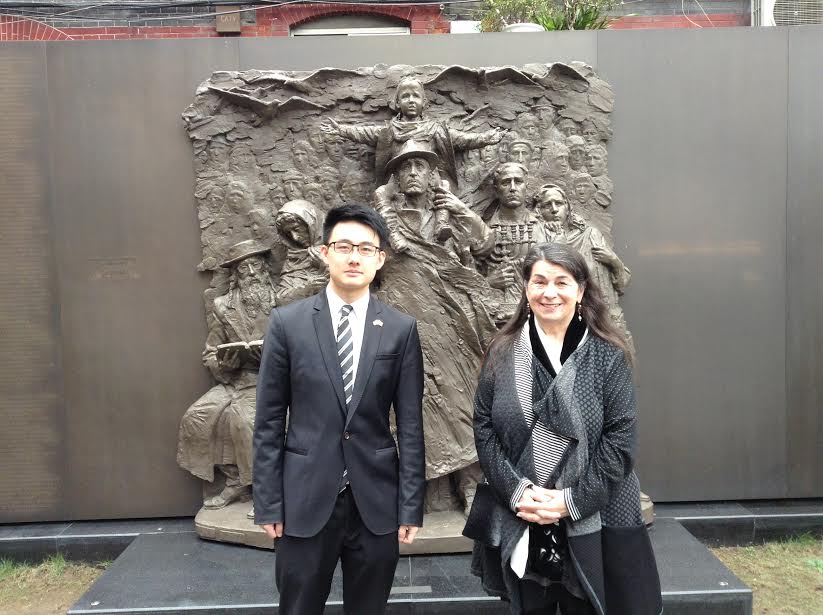 From China to Charleston
A day after returning from China, Aviva traveled to Charleston, SC to attend the wonderful premiere of Rosenwald, co-sponsored by the National Trust for Historical Preservation and the Pearlstine/Lipov Center for Southern Jewish Culture, at the American Theater. Special thanks to Dale Rosengarten, Tracy Hayes, and Katherine Carey for their help. The event went off without a hitch!
The screening was preceded by a reception and an introduction by John Hildreth (Eastern Regional Vice President for Field Services for the National Trust for Historic Preservation) and was concluded with a Q&A with Aviva Kempner, moderated by Shari Rabin (Associate Director, Pearlstine/Lipov Center for Southern Jewish Culture).
While staying in Charleston, Aviva had the wonderful fortune of visiting Callie's Charleston Biscuits- who quite possibly have the best biscuits in the South. Another great eatery that would be a disservice not to mention was Jestine's Kitchen- delicious Southern food with a very welcoming owner- Dana Berlin Strange. If you're in the Charleston area, pay them a visit and check out the collection of salt and pepper shakers on the wall, including a set sent from Aviva in the past. She also opened the film during its Charleston commercial run on Friday night and had dinner with friends.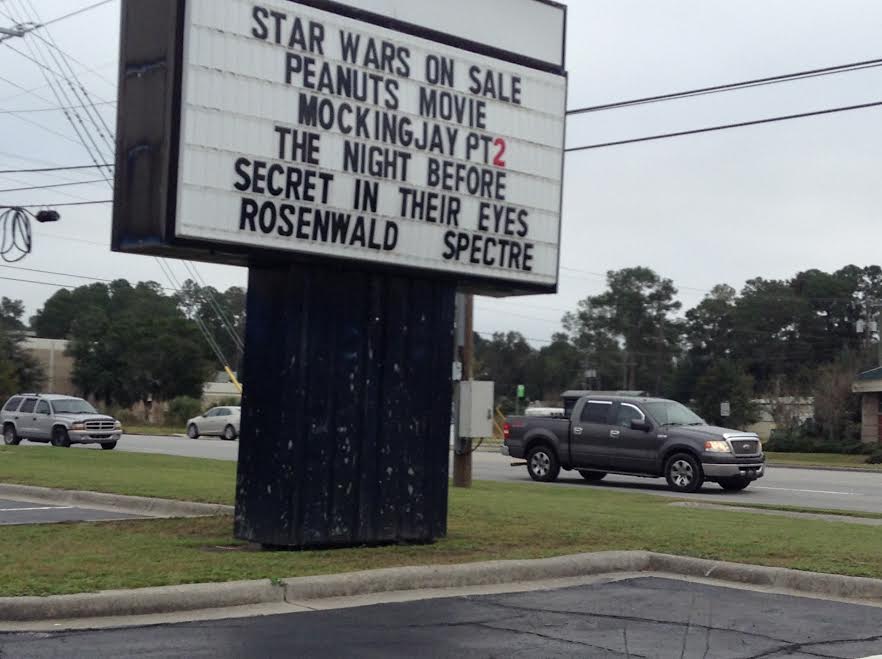 After spending time in Charleston, it was time for Aviva to head to Savannah, GA for another opening at a theater there. This travel was made possible by Ace Basin Bus, a new shuttle service that provides a daily transit between the historic districts of Charleston and Savannah. Run by urban planner, Ben Cotton the road was smooth and comfortable.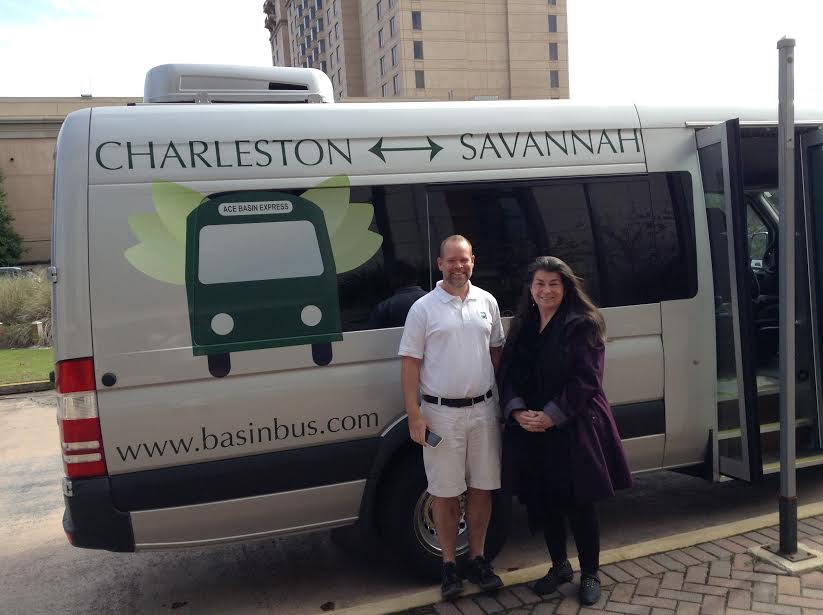 In Savannah, Aviva spoke with Mayor Edna Branch Jackson, Alderman Van Johnson, and a relative of Julius Rosenwald, Robert Rosenwald, who were all kind enough to attend the screening. The screening in Savannah was a great success, with many students in attendance that came out to support the film and it's message.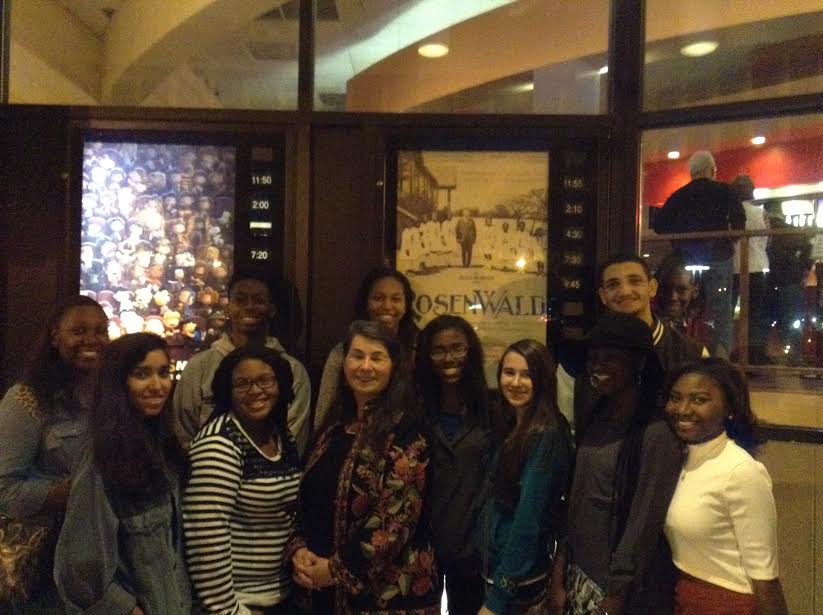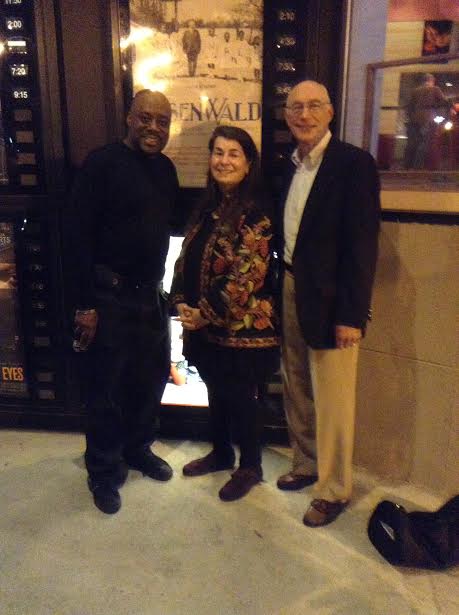 While in Savannah, Aviva also had time to visit the SCAD (Savannah College for Art and Design) Museum, which was filled with lots of incredible art, including this piece from the Jacob Lawrence show entitled, "History, Labor, Life: The Prints of Jacob Lawrence":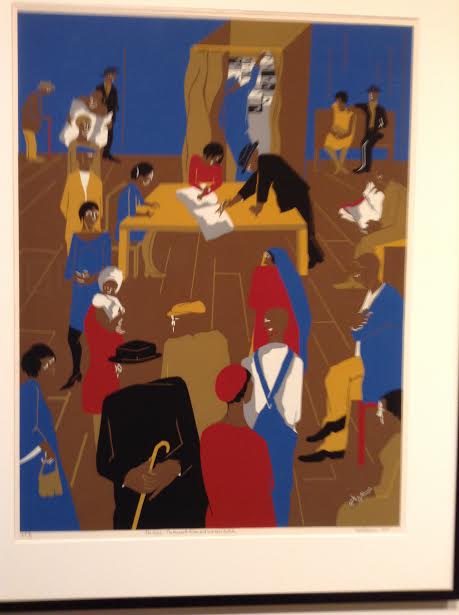 On her last day in Savannah, Rabbi Robert Haas was kind enough to give Aviva a tour of the oldest, purposefully built synagogue in America, Savannah's Congregation Mickve Israel. Here is a picture of a beautiful stain glass window found in the synagogue: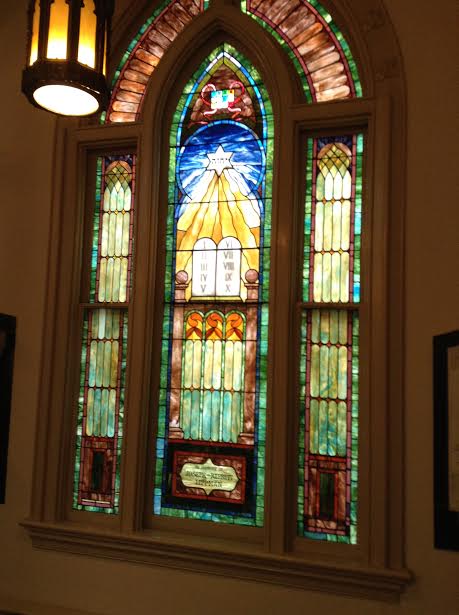 The real troopers for the release of the film in Savannah were Jeanne and Robert Rosenwald, who is a relative of Julius Rosenwald and the son of a cousin rescued from Nazi Germany by Juluis' children. They worked tirelessly to get people interested in coming to the film and also hosted Aviva.
Aviva is happy to be home and with her family for Thanksgiving, and she wishes the same for all of our followers!